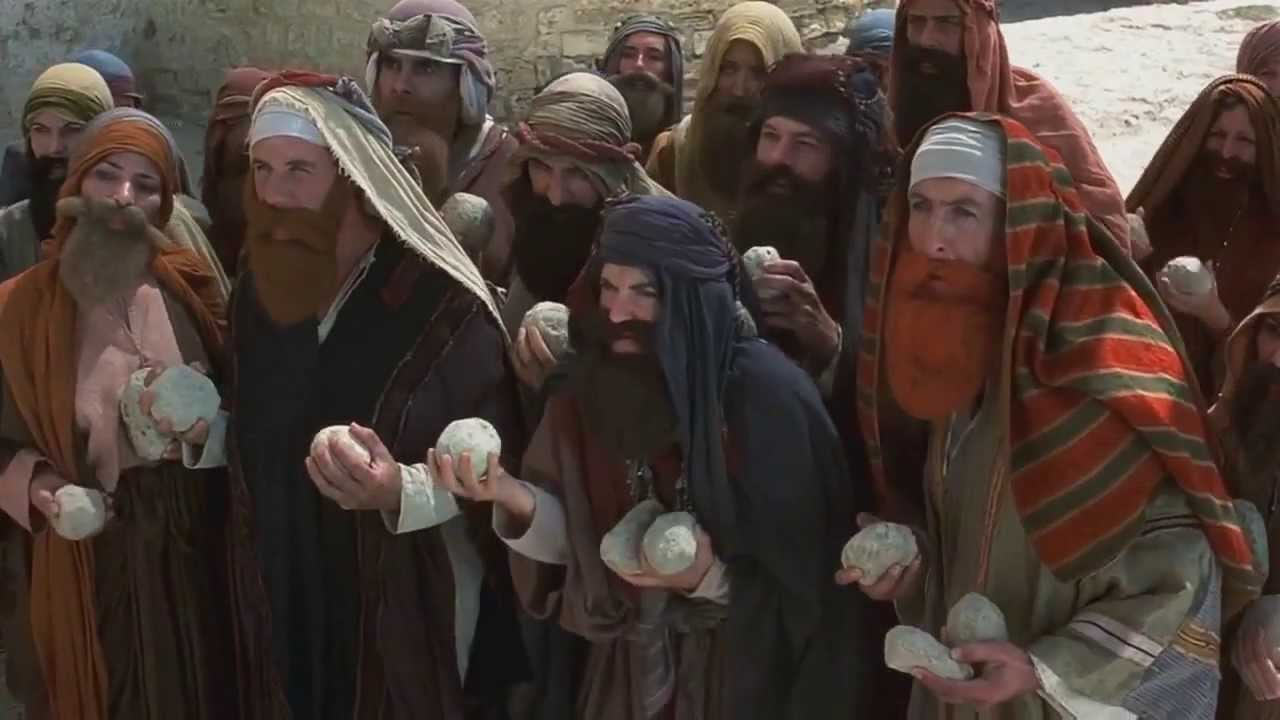 I spent the last year trying to incubate a company in Portland from the Bay Area. It didn't work out. It was not a unicorn (more of a gremlin). But it's all good. Here's the story.
Some of you may recall that, out of desperation, I set a timer for myself to start a company. My recent attempts at finding work had failed the passion test. The critical voices in my head were causing me to crack. My brain was like the stoning scene from Monty Python's Life of Brian.
I wasn't convinced doing another startup would be ideal, but it was movement. And staying busy is a good hack to keep the demons at bay.
Having grown a company in Portland back in "the naughts," I knew a lot of really talented people up there. And they were all in the market for something more interesting to work on. My thought was that we could build a product in Portland, and find the people to sell it here in the Bay Area. Ergo, the name RipFog: Rip City (Portland) + Fog City (SF). For 98% people however this become RipFrog, even if they were staring directly at the written name. Apparently frogs are linguistically dominant.
So when one of my old architects from my previous company in Portland had an idea, we jumped on it. It was a brilliant, highly-technical idea, and way out of my sweet spot. But bumbling my way to knowledge was part of the fun. We raised some seed money, hired a small team and went at it – they in a cool office in Portland's Pearl district, me staring longingly at said office through video conference on a rolling monitor, like a wistful Max Headroom.
I got to know the problem space, then polished up my wingtips to pitch it a hundred different ways to a hundred different potential users. I flew my cofounder down from Portland to the Bay for marathon days of feedback meetings.
Early signs were positive, partly due to it being a new domain. Plus we were talking to friendly folks who tell you what you want to hear. But as we got further into it, we realized it was going to be a tough road. Developers loved it, but they're notoriously cheap. The people with money didn't get it: the product wasn't solving a deep business pain point yet, just a technical one. It's possible to build a business around developer needs, but not the business I wanted to run.
After five months of building and pitching, we took stock and decided that it wasn't going to work. Over the holidays in a hotel room in Ashland, OR, I even put together a plan to merge the company into another startup that was starting to get traction.
I thought the merger was a great plan, but the Portland didn't share my enthusiasm. This was for a Bay Area company so a merger would make them the remote Max Headroom group.
But we still had some cash in the bank and a lot of ideas. So they were keen to take another swing at the plate. I went along with it.
That kicked off a process of ideation and product iteration. I would come up with ideas, meet with experts in the Bay Area to test those ideas, and then fly up to Portland to further refine the concepts with the team so they could prototype.
Ideation is normally a really fun process: whiteboarding big ideas and open space for how you can change the world. But doing that much of it by yourself and/or remotely sucks. You need the collaboration and whiteboard time. My team was amazing and I loved being up in Portland, but it wasn't feasible to be there full time given my family and Bay Area-native wife.
After four months of grinding my brain, and meeting with anyone I could for idea feedback and frequent trips to the Rose City (maybe we should have been RoseFrog), we finally honed in on an interesting idea that had legs. And we built out an initial product with 20 different companies trying it out. Problem was: we were running low on money.
While I could have raised more money and kept it going, I didn't want to run it remotely anymore. The team needed direct, collaborative leadership if it was going to succeed, especially in this "figure it out" stage. I was exhausting myself AND doing a bad job.
It's one thing if the product ideas are coming out of Portland (like the original idea) and I can focus on selling it. But when it's on my shoulders to bring new ideas for them to go build, it just didn't work. If we could have been in the same office, it would have been different.
I thought of finding someone in Portland who could lead the team. We talked to a few CEO folks and even had a great candidate lined up. But the team didn't want someone else. And the new product ideas were getting further away from the engineers' passions.
So rather than raise more money and keep going down this uncertain road, we decided to find a good home for the company. Sad for me as I loved the team and felt like I let down them down. But it was the best decision.
My big takeaway: it's okay to be remote if it's a known category and everyone knows what to build and sell. But for a new idea, you need to be in the same room. That, and stay away from "Fog" in your name.
While not the ideal outcome, it wasn't a bad one. And we had a good time, met a ton of amazing people, found a great company in Portland to acquire the team and IP. And we didn't raise a lot of money so we were able to keep our investors chips on the table (i.e. they got equity in the acquiring company).
And those voices in my head? Much quieter now. More like the "Always Look on the Bright Side of Life" scene.
Most importantly, I learned a lot about myself and what makes me happy. The experience has been the catalyst for a few new passion projects. Stay tuned on that.